Places to Visit in West Cork: Top Attractions and Hidden Gems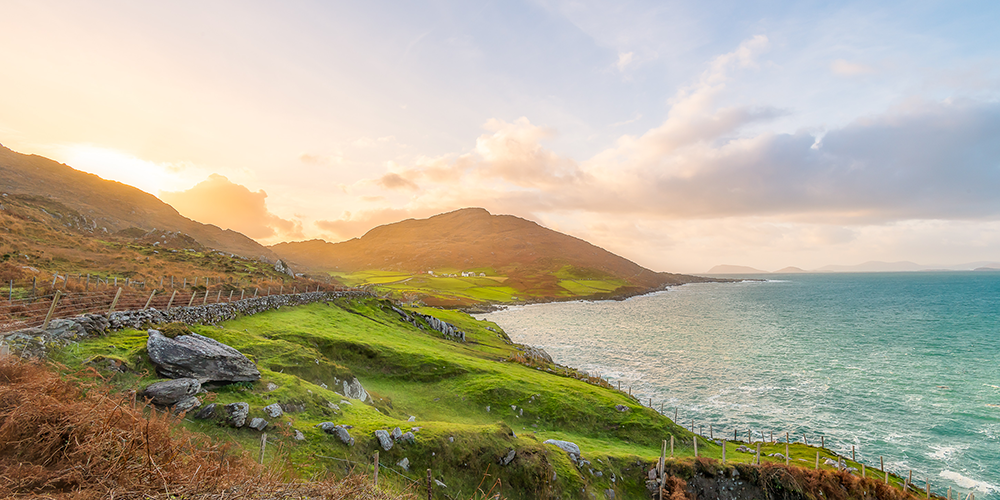 West Cork, located in the southwestern region of Ireland, is a treasure trove of natural wonders, vibrant towns, and rich cultural heritage. This stunning region offers an abundance of activities, attractions, and local flavours for visitors to experience and enjoy. Its coastline stretches over picturesque inlets, dramatic cliffs, and inviting sandy beaches, while its inland promises a perfect blend of history, culture, and idyllic landscapes.
For those who are planning a visit to West Cork, you can look forward to immersing yourself in a wealth of experiences that cater to a variety of interests. From exploring the charming towns of Kinsale, Clonakilty, and Bantry, to discovering breathtaking scenery at Mizen Head and Inchydoney Beach, West Cork has something for everyone. Moreover, the region's rich historical and cultural sites, as well as the diverse range of outdoor activities and tempting local cuisine, make for a truly unforgettable experience.
Key Takeaways
West Cork offers a diverse range of attractions from picturesque towns to awe-inspiring natural wonders.
The region is rich in history and culture, with numerous heritage sites to explore.
Visitors can enjoy various outdoor activities, indulge in local cuisine, and find suitable travel and accommodation options in West Cork.
Overview of West Cork
Region's Geographic Features
West Cork is a picturesque area in the southwestern region of Ireland, known for its stunning coastline, lush green hills, and charming villages. The area features numerous beaches, such as Inchydoney Beach and Barleycove Beach, which are perfect for strolling and paddling. West Cork is also home to several peninsulas and inlets, creating a diverse landscape that attracts nature lovers and tourists alike.
The region's natural beauty is complemented by its rich wildlife, including various bird species and marine life. A visit to West Cork offers opportunities for scenic drives, coastal walks, and outdoor adventures such as hiking, cycling, and water sports.
Historical Background
West Cork boasts a diverse and captivating history, with numerous sites of historical and cultural significance. The area has been shaped by various influences, including the Celts, Normans, and the British, resulting in a unique blend of architecture, traditions, and culture.
One of the prominent historical sites in the region is Mizen Head, Ireland's most southwesterly point, where you can explore the Mizen Head Signal Station and Fastnet Lighthouse. The region is also home to various ancient monuments, castles, and ruins, which provide a glimpse into the area's rich past.
In addition to its natural beauty and historical sites, West Cork is known for its vibrant local culture. Quaint towns such as Clonakilty and Ballydehob offer visitors a chance to experience Irish hospitality, with lively pubs, distinctive art galleries, and delicious local cuisine. West Cork's buzzing streets, festivals, and cultural offerings make it a must-visit destination for those exploring Ireland.
Top Towns in West Cork
Kinsale
Kinsale is a picturesque harbour town located in eastern West Cork. Known for its colourful streets and rich history, Kinsale is a popular destination for tourists visiting the region. Its beautiful coastline, historic landmarks, and charming shops and restaurants make it an ideal stop during a West Cork road trip. Don't miss out on the Kinsale Harbour Cruise for a stunning view of the town and its surroundings.
Clonakilty
A vibrant and bustling town, Clonakilty is a perfect mix of traditional Irish culture and modern amenities. Home to the renowned Inchydoney Beach, Clonakilty offers visitors a chance to enjoy sandy coastal stretches and beautiful landscapes. The town is also well-known for its lively music scene, traditional pubs, and delicious locally-produced food, making it a must-visit destination in West Cork.
Skibbereen
Skibbereen, often considered the heart of West Cork, is a charming town filled with history, culture, and natural beauty. The town boasts a rich heritage, which can be explored through its fascinating landmarks, such as the Skibbereen Heritage Centre and Lough Hyne. Outdoor enthusiasts can enjoy Lough Hyne, a unique marine lake, offering opportunities for scenic walks, kayaking, and birdwatching in the area.
Bantry
Nestled in the stunning Bantry Bay, the town of Bantry is an ideal base for exploring the magnificent landscapes of West Cork. The area is famous for its beautiful Bantry House and Gardens, a historic estate offering panoramic views over the bay. Bantry is also home to a variety of shops, cafes, and galleries that showcase the region's unique crafts and artisan products. Visitors can enjoy the relaxing atmosphere of this welcoming coastal town as they take in its natural beauty and charm.
Natural Wonders
West Cork is home to some incredible natural wonders that are perfect for exploring and discovering the beauty of Ireland. In this section, we'll focus on three particularly stunning areas: Mizen Head, Beara Peninsula, and Sheep's Head Peninsula.
Mizen Head
Mizen Head is the most southwesterly point in Ireland and offers breathtaking sea cliffs, unparalleled views, and a chance to immerse yourself in the power of the Atlantic Ocean. It is also home to the Fastnet Lighthouse, which is an iconic symbol of Ireland's maritime heritage. Visitors can stroll along coastal paths, view marine life, and experience the Mizen Head Visitor Centre, which offers an insight into its historical and environmental significance.
Beara Peninsula
The Beara Peninsula stretches between Counties Cork and Kerry, boasting a mix of rugged landscapes, quaint fishing villages, and ancient ruins. The Boat Trip from Castletownbere offers a chance to explore this area from the water and provides opportunities to spot wildlife such as seals, dolphins, and various seabirds. While on land, visitors can hike the Beara Way, visit the ruins of the 17th-century Dunboy Castle, and take in the stunning scenery of this unspoiled region.
Sheep's Head Peninsula
The Sheep's Head Peninsula is a narrow strip of land which reaches out to the Atlantic. Named after its unique shape, this peninsula offers a combination of stunning coastal views and tranquil countryside. With its well-maintained walking trails, the area is a haven for hikers and is also home to the Famous Baltimore Beacon. Visiting this remote, unspoiled region will provide a serene experience, while the small villages and welcoming locals add to the charm of this magical place.
Heritage Sites
West Cork is home to a wealth of cultural and historical attractions. In this section, we will explore some must-see heritage sites, including Bantry House, Michael Collins House, and the West Cork Islands.
Bantry House
Bantry House is a stunning stately home overlooking Bantry Bay. Built in the 18th century, this magnificent house showcases an exquisite collection of art and antiques, as well as beautiful formal gardens. Visitors can explore the grand rooms adorned with tapestries, paintings, and period furniture, providing a glimpse into the opulence of the past. The meticulously maintained gardens offer a serene and tranquil setting, perfect for a leisurely stroll.
Michael Collins House
Another noteworthy attraction in West Cork is the Michael Collins House, a museum dedicated to the life and times of one of Ireland's greatest military and political figures. Located in Clonakilty, this fascinating museum offers an engaging insight into Michael Collins' life, his role in the fight for Irish independence, and his untimely death in 1922. Interactive exhibits, artefacts, and multimedia presentations help bring his story to life and provide a better understanding of this significant period in Irish history.
West Cork Islands
The West Cork Islands offer a unique heritage experience, showcasing Ireland's rugged coastline and picturesque landscapes. Some of the most popular islands to visit include:
Garnish Island: Renowned for its Italianate gardens, Garnish Island is a must-visit for nature enthusiasts and keen gardeners. The island's sheltered position and favourable microclimate allow a diverse range of exotic plants to flourish.
Sherkin Island: Steeped in history, Sherkin Island is the home of the Franciscan Friary, dating back to the 15th century. The island's idyllic beaches and scenic walking trails make it a popular destination for walkers, artists, and photographers.
Cape Clear Island: As Ireland's southernmost inhabited island, Cape Clear offers unique insights into traditional Irish island life. Visitors can explore its rich archaeological heritage, including standing stones and a 12th-century church, or take a walk along the stunning coastal cliffs.
Outdoor Activities
West Cork offers an array of exciting outdoor activities for visitors who want to explore the region while experiencing some of Ireland's most captivating natural beauty. One of the best ways to take in West Cork's stunning landscapes is to embark on the 137 km Ring of Beara Drive around the Beara Peninsula; it takes around 2 hours to complete and offers incredible views, even if it's raining.
Nature and art lovers alike should not miss the Ewe Experience, an enchanting outdoor art exhibition in Glengarriff. This attraction combines the wonders of gardens, waterfalls, and interactive artwork, resulting in a truly magical experience.
West Cork is also home to picturesque coastal landscapes and vibrant villages, teeming with Irish culture and history. Exploring these scenic villages is a great way to experience the charm of West Cork's towns and witness unforgettable sea views.
If you fancy a swim in a stunning natural setting, pay a visit to the Blue Pools in Glengarriff. On warmer days, you can enjoy a refreshing dip, or even take a boat trip to catch a glimpse of dolphins and, if you're lucky, whales.
For those interested in history, West Cork offers numerous attractions worth visiting, such as the Rock of Cashel, Blarney Castle & Gardens, Cobh, and Charles Fort. These sites provide great insights into the region's rich past while also offering breathtaking views of the surroundings.
Whether you're a nature lover, history enthusiast, or simply looking to experience the best of Ireland's outdoors, West Cork has something for everyone. These activities showcase the region's natural beauty and charm, inviting guests to immerse themselves in the captivating landscape and experience the best that West Cork has to offer.
Local Cuisine
West Cork is a haven for food enthusiasts and boasts an array of delicious local cuisine. The region is particularly known for its fresh seafood and farm-to-table produce, encapsulating a true taste of Irish culinary traditions.
One of the many highlights of West Cork's culinary scene is its seafood, with an abundance of fresh catches from the nearby Atlantic Ocean. Visitors can experience succulent prawns, local crab, and a variety of fish dishes while dining at the esteemed restaurants in the area.
Apart from seafood, West Cork offers a selection of artisanal products, such as its famous handmade cheeses. Local cheesemakers have gained a reputation for producing exceptional cheddar, blue, and soft cheeses, using traditional methods and raw milk from free-grazing cows. Exploring the local markets and specialty shops will allow you to sample their rich and flavourful offerings.
Additionally, the region has also been recognised as the Top Foodie Destination in Ireland, with an array of gastronomic experiences catering to all palates. Regional chefs take pride in using locally sourced ingredients, allowing them to create unique and mouth-watering dishes.
It's not only the quality of food that makes West Cork special; the area's restaurants provide a warm, welcoming atmosphere for an enjoyable dining experience. Whether you're looking for an intimate wine bar, such as the Black Pig Wine Bar, or a sophisticated evening at the award-winning Mews, there's something for everyone.
In conclusion, West Cork offers an unforgettable culinary adventure, where visitors can discover the true essence of Irish cuisine, accompanied by the region's stunning landscapes and friendly locals.
Travel and Accommodation Tips
When planning a trip to West Cork, it's essential to consider some key factors to make the most of your experience. From choosing the right time to visit to selecting the ideal accommodation option, these tips can help you enjoy the beautiful scenery and attractions in the area.
Best Time to Visit: Although West Cork is a stunning destination all year round, many travellers prefer to visit during the summer months, from June to September. This period offers mild temperatures, making outdoor activities like hiking and sightseeing more pleasant. However, remember that summer is also the peak season, so expect increased tourist traffic and accommodation prices.
Transportation: West Cork is easily accessible by car, with a well-connected network of roads and scenic routes like the Ring of Beara. Public transportation is also available, with bus connections from Cork City and other major towns. It is worth considering a rental car, though, to give yourself the freedom and flexibility to explore the region at your leisure.
Accommodation Options: West Cork offers various accommodation options, including hotels, guesthouses, B&Bs, and self-catering options. Some popular hotels in the area include Dunmore House Hotel, Eccles, Actons Hotel Kinsale, and the Celtic Ross Hotel & Leisure Centre. Evaluate your budget, preferences, and travel itinerary to choose an accommodation type that suits your needs.
Activities and Attractions: West Cork is home to numerous places to visit, such as Mizen Head and Fastnet Lighthouse, Inchydoney Beach, Clonakilty, Garnish (Garinish) Island, and Kinsale Harbour Cruise. Plan your itinerary to include a mix of cultural, historical, and outdoor experiences, depending on your interests. Don't forget to allocate some time to appreciate the fantastic local cuisine and quaint villages along the way.
To make your West Cork trip memorable and enjoyable, follow these travel and accommodation tips. With the right planning and choices, you'll be able to explore and appreciate everything this beautiful region has to offer.
Frequently Asked Questions
What are the best towns to visit in West Cork?
Some of the best towns to visit in West Cork include Clonakilty, Kinsale, Skibbereen, Bantry and Bandon. Each town has its own unique charm and attractions, providing visitors with a variety of experiences while exploring the area. Clonakilty, for example, is a vibrant coastal town known for its music scene, while Kinsale is a picturesque harbour town offering exceptional food and scenic walking routes.
Which outdoor activities are popular in West Cork?
West Cork offers a wide range of outdoor activities for all ages and fitness levels. Some popular options include hiking, cycling, kayaking, surfing, and golfing. The Sheeps Head and Beara Peninsulas offer stunning coastal walking routes, while the Ring of Beara is a scenic drive that takes visitors around the beautiful Beara Peninsula.
What are the must-visit islands in West Cork?
There are several islands in West Cork worth visiting, including Garnish (Garinish) Island, Sherkin Island, and Cape Clear Island. Garnish (Garinish) Island is renowned for its lush gardens and diverse plant collections, while Sherkin Island and Cape Clear Island boast beautiful beaches, artisan, shops and opportunities for wildlife spotting.
How can I enjoy a rainy day in West Cork?
Rainy days in West Cork can still be enjoyable. You can go on the Ring of Beara scenic drive or visit indoor attractions such as museums, galleries, and local artisanal shops. Alternatively, you can attend a traditional Irish music session at one of the cosy pubs in the area or take a cooking class to learn about local cuisine.
What scenic locations should I explore in West Cork?
The region boasts a wealth of stunning landscapes to explore. Some must-visit locations include Mizen Head, Inchydoney Beach, Sheeps Head Peninsula, and the Old Head of Kinsale. These offer breathtaking views of the Wild Atlantic Way. Additionally, don't miss the picturesque Charles Fort, a star-shaped fortress situated near Kinsale Harbour, and the famous Fastnet Lighthouse at Mizen Head.
Which hotels are recommended for a stay in West Cork?
Accommodation options in West Cork cater to various budgets and preferences. Some popular choices include luxury hotels, family-friendly guesthouses, and cozy B&Bs. Always research and read reviews before booking, to ensure a comfortable and enjoyable stay in the area.